This article, Daxter Backpack, has insufficient information and needs more content. You can assist The Last of Us Wiki by expanding this article as much as you can.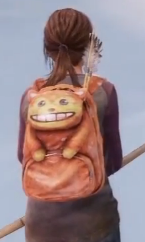 Daxter Backpack is an unlockable skin for Ellie that appears in The Last of Us. The cost amount to unlock this skin is $1000. The skin will only become available for purchase after the game is completed on Survivor.
This item of clothing pays homage to one of Naughty Dog's older games franchises Jak and Daxter.