This article is about Hometown. For the the single-player prologue of the same name, see Hometown.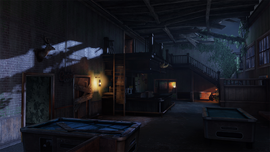 Hometown
is a map in
Factions MP
, available as a part of the 
Abandoned Territories Map Pack
. This map is based on the town at the very beginning of the single-player campaign. The setting is night, which players can use to their advantage for stealth. It's a dark map along with
High School
and Downtown.
Overview
At night, in a small town, the Hunters and Fireflies fight over the few remaining supplies that were not looted during the initial outbreak, using the red Loot Boxes scattered across the map.
Strategy
Hometown is a relatively large and dark map, aside from the car towards the center of the map that's on fire. Mid to long ranged weapons are advised for this location, as is Covert Training, due to the fact that this map has the potential to be a war zone of Stealth.
The aforementioned car is extremely loud when players are in the general vicinity of it, as well as being pretty bright; this makes it easy to spot enemies and sneak up on them, but also makes the player more exposed and easier to spot, so it is a good idea to always either have someone watching your six around that area, or just avoid it all together.
When in buildings as well, try to stay below cover when you know an enemy could be nearby, as keeping stealth can be a very good way to ensure victory. Keep in mind that stealth isn't the only option though, there are a couple pretty good sniping points, and the large amount of cover around the buildings makes it fairly simple to get up close and personal with the enemy.
Community content is available under
CC-BY-SA
unless otherwise noted.