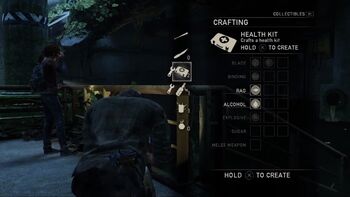 Items are scavenged and used by Joel and Ellie across their journey in The Last of Us. For crafting materials, the amount you receive can be determined by the circle surrounding the object's symbol, so it is recommended to check Joel's backpack before picking up a material you're almost full on.
Categories
Edit
They are grouped into nine main categories:
As well as component items, sometimes you may on very rare occasions encounter complete crafted items such as Medikits, Shivs, and upgraded melee weapons. This most commonly occurs when the game is introducing a new item to the player.
Also, items with a "+" symbol directly heal the player and give no materials.
Main article: Crafting
Crafting is an important element in The Last of Us. When two (or more) items are combined, they may be crafted to form something new and useful to Joel and Ellie. Additionally, many items can be used for many different end products. This means that the player must quickly learn to manage resources.