Joel's house is a location in The Last of Us Part II, where he lived with Ellie in Jackson.
History
Events of The Last of Us Part II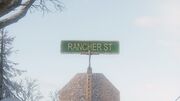 After arriving in Jackson, Joel and Ellie took up residence in a house at the end of Rancher Street, not far from Jackson Cemetery. Joel lived in the main house while Ellie lived a converted garage out back. Since Joel's death and Ellie moving to The Farm the house is now vacant.
After Joel's death and burial, Ellie and Dina visited the house to collect supplies for their journey to Seattle. While Dina waited, Ellie wandered through the house and interacted with various objects, bringing back many memories of happier times.
Dina then calls to Ellie for her to come downstairs. Maria has arrived and explains that Tommy has left for Seattle. Against her better judgement she allows Ellie and Dina to leave Jackson to try to safely bring him home.
Layout
It is a two bedroom house with a living room, dining room, kitchen, and three bathrooms. The house has wooden floors throughout, except in the bathrooms and utility areas. The walls and ceilings are showing signs of degradation, but Joel appeared comfortable living there and kept the house clean and tidy. The majority of the decorations have a rural theme with lots of animal ornaments and landscape paintings, with many personal items including family photographs, pictures, and mementos scattered throughout.
External
After Joel's death, the front steps of the house have been covered with flowers and cards from people expressing their condolences. There is a small porch with a chair and side table, as well as wind chimes and an oil lantern.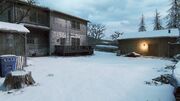 To the rear of the house there is another porch overlooking Ellie's house; a converted garage with it's own electricity and plumbing. A large double gate leads into the back garden where a boat sits on a trailer. In the garden there is a wooden shed and recycling bins, and a log pile covered with a tarp. On the corner of the house there are security flood lights. Jackson Cemetery is visible from the side of the house, and through a side gate a path leads through allotments into the town center.
Ground floor
The front door has stained glass windows to the sides, and just inside the front door is a console table with a lamp, brush, a handmade ashtray, and a magazine rack. Above the table is a small shelf with a potted plant and two animal carvings of a deer and a rhino. Next to the table is a coat tree which has a jacket and a hat hung up. On the opposite wall there is a coat rack and shelf, with an umbrella hanging on a hook. On the shelf there are more animal carvings of a doe, lion, ostrich, and a zebra.
Living Room
The living room has large bookcases on one wall with several books and ornaments on display. The bookshelves feature literature on various topics such as wood carving, cooking, birds, hunting, and life at sea. There is an expansive collection of encyclopedias called 'The World Vista' volumes 1-27, and some classic novels like 'The Canterbury Tales', 'The Phantom of the Opera', 'White Fang', and 'Moby Dick'. There is also a museum guide book from the Giants of the Past exhibit. When Ellie picks up the book she opens it at the Deinonychus pages and comments "That was a good day".
There is a sofa, armchair, and coffee table which has books on wood carving and woodworking on top. A window seat stretches the width of the room with views out onto Rancher Street. A widescreen TV with separate VHS and DVD players sits next to the fireplace. On the mantle there is a clock and a framed drawing of Joel which is signed 'To: Joel, From: Ellie'.
Dining Room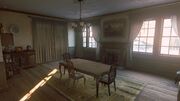 The dining room has an ornate dining table and chairs in the center with a large rug underneath, an armoire for storing crockery, and a marble fireplace with a painting of a sunset landscape above it.
In one corner there is a drinks bar with numerous alcoholic beverages, and a side cabinet with a photo frame on top. The photograph is of Ellie having dinner with Jesse, Tommy, Maria and Joel. It is unknown who took the photo. There is also a working clock on the wall.
Kitchen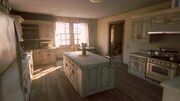 The kitchen is in a traditional Shaker style with white units, marble worktops and brass handles. An island stands in the middle of the room with a manual meat grinder attached to one end. The cupboards are stocked with jars of dried foods, beans, seeds and preserves. Next to the sink is an owl mug; when Ellie inspects it she makes a sketch of an owl in her journal. A small breakfast table sits underneath a window with a view of Ellie's home.
Just off from the kitchen is a utility room with coat racks, storage boxes, cleaning products and a large washing basin for doing laundry. Next to the laundry room is the downstairs bathroom.
First Floor
Under the staircase are storage shelves with folded towels and an ironing board. Up the stairs is a landing area with two side cabinets. On one of the cabinets there is a framed photo of Joel and Tommy.
Studio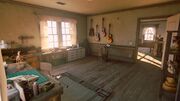 Joel had converted one of the rooms into a woodworking studio and has many of his creations on display, as well as an area where he builds guitars.
Joel was in the middle of building a new guitar which is left unfinished. When Ellie inspects the guitar she writes in her journal "All the promises at sundown, I meant them like the rest...". There are four guitars hanging on the wall above a chair and a music stand with sheet music.
There is an empty gun cabinet in the closet, and a shelf unit with Joel's completed wood carvings. These include a bear, deer, pig, wolf, and a rabbit. He was quite skilled at carving, and on a workbench there is a piece he was working on before he died; a detailed carving of a rodeo cowboy on a bucking horse. Next to the studio is the upstairs bathroom. There is a single hotplate for boiling water, and a bucket in the bathtub. This suggests that hot water was not available to the house.
Master Bedroom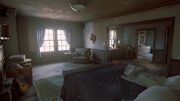 To the right there is a small walk-in closet. Inside there is a clothes rail, shelves of folded clothes and a shoe rack. Joel's backpack sits on top of the shoe rack, and Ellie finds Joel's jacket on the rail. She takes the jacket in her hands and breathes in the smell, reminding herself of his aroma.
A chest of drawers sits underneath a front facing window, with a carving of an eagle, a lamp, candle, and two photo frames on top. One is the Joel & Sarah Photo that Ellie managed to give to Joel from Maria. The other is a photo of Joel and Ellie in the horse stables.
The master bathroom has double sinks and mirrors and a small space heater. There are various toiletries by the sinks, and interestingly some herbal roots. There is a makeshift shower hanging above the bathtub, which would be topped up with hot water from the hotplate.
The main bedroom has a double bed, wardrobe, armchair and side tables. A small wall shelf has more books, binoculars, and a clock above it. There is a wood carving of the state of Texas. Joel had rigged up a turntable with speakers in corners of the room, with vinyl records on display and a guitar. On one of the bedside tables there is a book called An Idiot's Guide to Space, with fun facts about the universe.
A red shoebox sits on the corner of the bed. When Ellie opens it she discovers Joel's watch and his revolver which she takes with her.
Gallery
Trivia
The clocks in the house all work. However the living room clock is three hours ahead of the clocks in the dining room and the bedroom.