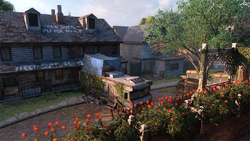 Suburbs is a map in Factions MP, available as a part of the Abandoned Territories map pack, along with three others. The area is based on a deserted suburban neighborhood in Pittsburgh. A dust storm would blow into the fight, which makes it hard to spot enemies. The dust comes after about three minutes of in-game time.
In a deserted neighborhood, the Hunters and Fireflies fight over the few remaining supplies that were not looted prior to the outbreak, using the red Loot Boxes scattered across the map. At the start of the match, the starting points are behind an ice cream truck and a power grid.
Most fights will take place outside, so medium range weapons will work well here. The houses are where short range weapons such as the Shorty excel, as there is very little cover inside. One house near the power grid on the right has a destroyed roof, which is a good sniping point. Another sniping point would be next to the ice cream truck, around a fence, where you climb up a Ladder. This spot overlooks most of the neighborhood, so that you can tag enemies. The long roads are also good for medium-long range weapons. Use the derbies as cover if you plan to cross, as these roads don't give a lot of cover.
There are also some great nail bomb locations. Nail Bombs placed near the rims of doors and windows are often good spots. The derby is also a good spot place bombs around the corner. The sides of the house are not good spots. The smoke will give away it's location, but it may be hard to spot when the dust storm blows in. The dust does not block most of your view, like the other maps where it makes it hard to spot enemies. It may be difficult to see what's inside the houses, though, so proceed with caution.
Community content is available under
CC-BY-SA
unless otherwise noted.